4 tags
Margaret Thatcher Lives
Mean old ladies die everyday but today marks the death of a very special meanie. So special, they draped Meryl Streep in extra wrinkles so she could transform into the former Prime Minister Margaret Thatcher on screen. Although it's been a long time since she resigned, Britain's own Ronald Reagan has been widely criticized over the Falklands War, the poll tax, and her union-busting policies....
2 tags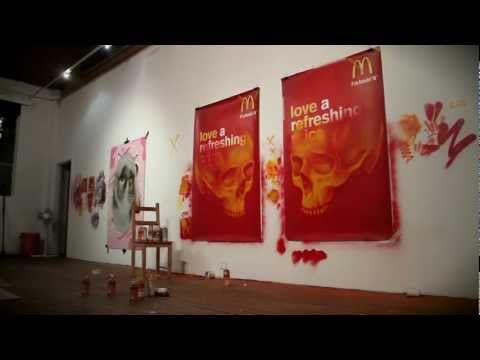 5 tags
5 tags
5 tags
Sydney's Street Art Keeper
Between 2004-2008 I was sort of coming and going from Sydney, Australia and I've met and kept in touch with quite a few characters from there. Anytime I'm lured into a conversation about the state of graffiti and street art in Australia, a few particular topics come to mind: Pastemodernism, which was a show that I was involved and included in that was invented to raise the profile...
9 tags
Niagara, Queen of Detroit
Niagara (aka Lynn Rovner) is no snake oil salesmen, but she does have a tried-and-tested tonic for staying young and hot. "The first and best rule is to not have children. If it doesn't get you physically, it'll get you mentally. I can't imagine the stress and the energy that goes into it. The rest is all in the genes and in not getting fat." The women that she paints, The Niagara Girls,...
13 tags
Very Nearly Almost (issue 17)
I recently shot some photos of Toronto street art and graffiti for Very Nearly Almost (VNA) Magazine (issue 17). The brief was pretty simple: "street art, including stickers and paste ups in Toronto." I don't know which ones they chose for print - gee whiz guys, send me some copies already - but since the issue is out now, I think I'm clear to share some of the shots that I...
10 tags
3 tags
10 tags
12 tags
The Chevy Dilemma
Remember Under Pressure Festival? While it's expected that the artwork - graffiti, of course - created during the festival would be photographed, admired, hated on, scowled at and generally given any number of reactions that graffiti gets, it wasn't expected that it would erupt into a property and copyright argument. Some of the art created during the Under Pressure Festival in...
6 tags
"Bottom line: the city is more fun when you pay attention to the graffiti."
– Colin "Godot" Hubert
10 tags
"I'm like the Rob Ford of graffiti."
– Sterling Downey 
10 tags
11 tags
Under Pressure 2011 (Montreal, Canada)
8 tags
"The first and best rule to staying young and hot is to not have children. If it..."
– Niagara Detroit
8 tags
11 tags
6 tags
12 tags
Loveariel: On Love and Extraterrestrials
 To be in the company of the artist, loveariel, preparation is a must. First, you should start keeping a vampire's hours. Ariel peaks creatively when most of her peers who share the Surry Hills studio have packed up and left for the evening. The second is to read up on matters of the occult, the supernatural and any texts regarding the 2012 prophecies. Without much coaxing, Ariel is happy to...
6 tags
6 tags
10 tags
12 tags
Everfresh: Blackbook
I'm fucking excited. One of my favourite studio/collectives, Everfresh (Melbourne, Aus.), has released a new book. Well..it'll be out in about a week. These guys have been creating art on the streets of Melbourne for years and are key players in Australia's art scene, though it's frustrating that they haven't gotten the international recognition they deserve. The...
11 tags
12 tags
9 tags
11 tags
6 tags
6 tags
10 tags
6 tags
6 tags
6 tags
I Want My Graffiti Art Museum!!!
Nothing says "community enrichment" like a cultural centre that offers classes on evading arrest and reclaiming public space. But, as much as the proposed Graffiti Art Museum in Toronto gives street artists and appreciators that sensual-body-massage feel, it leaves the lingering scent of eau de hoax, which gets more pungent upon learning that it's famed stinker Ron...
9 tags
6 tags
Beastman Begins
Sydney, Australia-based artist Brad Eastman has a solo show, Beastman Begins, opening at Sydney's China Heights Gallery this Friday, November 14th, 2008. In Beastman Begins, the artist's debut solo show, Brad creates an alter universe full of his signature green creatures and people. "The beasts are from a parallel world where everyone is usually naked showing off their unique scaly skin;...
6 tags
6 tags
Ben Frost: Crapitalism
American Business (2008) Australia's Ben Frost is a pop culture puppeteer, composing intimate choreography on canvas between Disney characters, vintage pin ups, logos, slogans and anything that smacks of nostalgia. Each element is applied with a sign painter's precision. Every graphic interaction is deliberate. Untitled (2008) Since my first encounter with Ben's work...
22 tags
Pastemodernism Goes Down in Sydney, Australia
New trends in street art are usually so fickle and under-established that even the slightest bit of organization within a movement can reveal great potential, or fall apart completely. Luckily this is a tale of the former. Anthony Lister Whitney Cylon Lately, the most frenetic personalities on the streets of Sydney are the kind that lug around buckets of wheat paste and...
6 tags
6 tags
7 tags
Godot the Cabbie
The self-proclaimed Godot (because everyone is waiting for him) trawls the streets late at night documenting art on the walls of Sydney and he finds absolutely everything. From inside the shell of his cab, Colin (his real name) takes photos all night long, carrying with him a few cards to hand out to the social miscreants that he catches in the act. I say this because on one night in...
6 tags
8 tags
Curvy 5 Debuts in Australia →
10 tags
9 tags
Juxtapoz Magazine: Kids Today @ MTV Australia →
6 tags
Anthony Lister on Semi-Permanent, Spiderman and...
Lister in the studio Conservatively, Semi-Permanent packs enough inspiration to fuel the creative minds of Australia, at least until the next year rolls around. The two-day conference, organized by Design Is Kinky, brings together a diverse group of art-based professionals willing to enlighten a big, eager audience. The presentations are flanked by several off-site shows including, Curvy5, a...
10 tags
10 tags